Booking Terms & Conditions for Bidwell Farm Cottages
(If you book through a third party website such as HomeAway, the terms and conditions may vary and you should refer to their terms and conditions sent to you at the time of booking.)
You will only be covered by our Master Cancel protection (detailed below) if you book direct through our website or through the Premier Cottages website.
The Contract for a short-term holiday rental will be between Bidwell Farm Cottages (referred to as "us" or "we") and the person making the booking and all members of the holiday party (referred to as "you" or "your") under the following booking conditions. UK law will govern the Contract. The contract of hire is not effective until we have received and processed the deposit. The contract will be subject to these booking conditions, and must be complied with.
The party leader must be at least 25 years of age at the time of booking and the names, addresses and ages of all members of the party must be shared with us on request.
The party leader agrees to take full responsibility for ensuring that all the following Terms and Conditions are adhered to by ALL members of the party and they must stay at the accommodation throughout the holiday period unless agreed beforehand.
Payment
Bookings are confirmed on receipt of the booking form and payment of the deposit of 25% of the holiday cost. The balance of the rental will be due for payment at least 61 days before the start of your holiday. (Paying the balance late will mean you are not covered by our Master Cancel protection policy). We reserve the right to cancel a holiday where payment has not been received two months before the commencement date in which case you may lose your deposit. If the booking is made within 61 days of the holiday start date, then payment will be due in full at the time of booking. No entry to properties will be allowed without payment, in full, being cleared beforehand.
Cancellation
Cancellations must be immediately notified to us by both email and by phone – please ensure you get an acknowledgment from us, and you must leave a message on our voicemail if your call is unanswered, and please get in touch again if you do not hear from us within 24hrs.
Bookings placed/made after 1st May 2020 only (see below for bookings made earlier). We have invested for your protection in Master Cancel, a full refund insurance policy to give you peace of mind when booking with us:
(If you cancel 60 or more days before check-in date, please take note that deposits in this instance are non-refundable. We will however hold your deposit to be credited against a booking made within 12 months of your cancellation date.)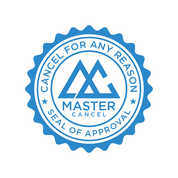 If you cancel for any reason between 60 days and 2 full calendar days before check-in date your booking is covered by our cancellation protection cover, meaning that if you cancel on day 59 to day 3 before check-in date, you will receive a full refund of the accommodation costs paid. You will be reimbursed on the check-in date of the original booking.
Eg: for arrival on Friday you must cancel by Tuesday 6pm.
For arrival on Saturday you must cancel by Wednesday 6pm.
If you cancel within 2 full calendar days before check-in date or on the day of check-in, you will not be reimbursed for your booking costs under any circumstances.
Eg: for a Friday arrival you cancel anytime after 6pm on the Tuesday before through to check in day and time.
For a Saturday arrival you cancel anytime after 6pm on the Wednesday through to check in day and time.
Bookings placed before 30thApril 2020 are not cancellation protected, meaning that if you cancel your booking, the terms and conditions in place at time of booking apply;
All deposits paid are non-refundable.
If you do need to cancel your booking we will do our best to re-let your dates.
If we do manage to re-let your booking dates, we will be able to offer you a refund up to the full amount of your booking dependent on how much we have managed to let your dates for.
If we are unable to re-let your dates, the total booking amount is non-refundable.
We strongly recommend that you take out a travel insurance policy.
Changes to your holiday for Bookings made after 1st May 2020
Holiday dates may be changed, for new dates at Bidwell Farm Cottages, provided the Property is available for the new dates, if the changes are agreed more than 61 days before the start of the original holiday dates and if any additional charges required (due to cost of dates booked) are paid.
Cancellation by us
If we are unable to honour your booking or part of your booking due to the property being withdrawn from the collection or by a Force Majeure Event (please see definition below), Bidwell Farm Cottages may, at its sole discretion, offer you: a full or partial refund; or alternative holiday dates; or such other remedy as Bidwell Farm Cottages considers appropriate with regard to the circumstances.
In this contract, a Force Majeure Event means any of the following circumstances which may hinder or prevent the performance of the contract, including but not limited to: acts of God, flood, drought, earthquake or other natural disaster; epidemic or pandemic; terrorist attack, civil war, civil commotion or riots, war, threat of or preparation for war, armed conflict, imposition of sanctions, embargo, or breaking off of diplomatic relations; nuclear, chemical or biological contamination or sonic boom; any law or any action taken by a government or public authority, including without limitation imposing a restriction, prohibition, or failing to grant a necessary licence or consent; collapse of buildings, fire, explosion or accident; any labour or trade dispute, strikes, industrial action or lockouts; non-performance by suppliers or subcontractors; and interruption or failure of utility service.
This will be the full extent of our liability. No additional compensation, expenses or costs will be payable.
Terms of rental
The number of people occupying the premises shall not exceed the number stated on the booking form.  Breach of this rule will terminate the contract without recompense.
You may access the property from 2pm on the day of arrival (earlier arrivals are by arrangement only).  Please note that departure is by 10am on your final day (again, later departures are strictly by arrangement only). We need this time to ensure that the cottage is ready for your arrival after the previous guests departure.
You must not use the property except for the purpose of a holiday during the holiday period, and not for any other purpose or longer period. The agreement to stay in the property for the holiday period does not create the relationship of Landlord and Tenant between the parties. You shall not be entitled to a new tenancy, or to any assured short hold or assured tenancy or any statutory protection under the Housing Act 1988 or other statutory security of tenure now or at the end of the Holiday Period. On departure, you are requested to leave the accommodation in a clean and tidy condition.
You agree to vacate the hired premises without demand at the termination of the period of hire. We have the right to enter the property at any reasonable time for the purpose of inspection or repair work and you undertake to leave the premises secure if left unoccupied during the period of let.
Both properties are totally non-smoking and non-vaping.
You undertake to relieve Bidwell Farm Cottages of any liability for damage or injury, however caused, by any member of your party. You must take all necessary steps to safeguard yourselves and your personal property. We accept no responsibility for loss, injury or damage to any member of your party or of their property, howsoever caused, arising in any manner out of the let of the premises.
Car parking: for 3 cars per cottage available, and Bidwell Farm Cottages cannot accept any liability for guests vehicles. Electric Vehicles two outside 3 pin sockets are available on site. Please inform us before arrival if this is required.
Wi-Fi/internet: access is provided for free for your use. You agree to reasonable and lawful usage of this service. We cannot guarantee internet access but have a contract for prompt repair in place should remedial action be required.
Care of the property: You are responsible for the property and are expected to take all reasonable care of its furniture & fittings. You must leave them in the same state of repair and in the same clean and tidy condition at the end of the rental period as at the beginning. You must not use the properties for any dangerous, offensive, noxious, noisy, immoral activities or be a nuisance or annoyance to the owner or other neighbouring properties.  You are legally bound to reimburse us for replacement, repair or extra cleaning costs on demand (although we would not charge you for the odd glass or plate).  Lost keys are charged at £10 to cover the replacement cost.
Dogs are very welcome by arrangement, for the Cowbyre Cottage only.
We will accept dogs in the Cowbyre on request but all dogs must be booked in by prior agreement, and we will require details about your dog(s) in advance. We don't charge any extra for one dog staying at Bidwell Farm, but for two or more dogs we charge £40 per booking. We will levy an extra charge if something is damaged that can't be repaired in time for the next guests. We may ask for a refundable deposit at the time of booking, to be held by us to cover any extra cleaning required for upholstery, carpets, bedding or curtains at the end of your stay.
Dogs must be well behaved, house-trained, kept under proper control and not allowed on the furniture, in the bedrooms & bathrooms, nor left unattended in the property. Dog waste must be collected and disposed of, and if poo bags are used these must be bio-degradable. Dog owners will be held responsible for any damage caused to the property, contents or garden by their dog and for any extra cleaning required. When out walking on the farm you must ensure that dogs are kept under close supervision. We reserve the right to seek details of any dogs in advance and to refuse permission for them to be brought to the accommodation for any reason, including if they are considered unsuitable in character, size or behaviour, or liable to be a nuisance or danger to other guests. If a guest arrives with a dog(s) that have not been pre-approved for the booking, we reserve the right to make additional charges as above, or refuse to accept the dogs at the property. 
Disclaimer
The owner has taken every care to ensure the accuracy of property descriptions and all information is provided in good faith and believed to be correct. In the event that any individual term or clause stated in this Contract is not permissible by law, the remainder of the Contract shall remain valid. This Contract is governed by and construed in accordance with UK Law.
This does not affect your statutory rights.
Complaints
Every effort is made to ensure that you have an enjoyable stay. However, if you have any problem or cause for complaint, it is essential that you contact us immediately to give us the chance to resolve it. We value your custom and want you to return. We are always available on our mobile phone and will do our best to resolve any problem asap. Issues must be raised before you leave!